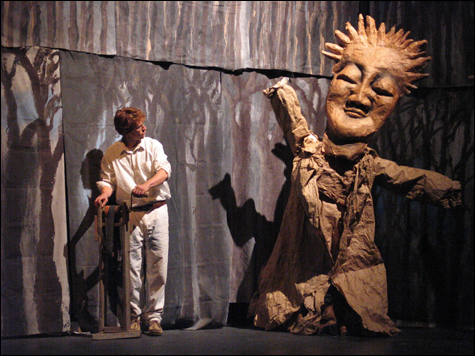 Greg Cook previews Bread and Puppet Theater's Divine Reality Comedy in this week's Boston Phoenix. The show, by coincidence, will be running the same weekend as my own show at Willoughby and Baltic. Cook conducted an interview with me regarding the controversies surrounding last year's show and Peter Schumann's exhibition of Independence Paintings: Inspired by Four Stories both here in Boston and in Burlington, Vermont after his deadline. The interview will appear elsewhere in the near future.

[N.B. Part One of the interview appears here on the NEJAR website, Part Two appears here.]

Given the word count limitations that editors must always impose upon their writers, Cook's preview is very thorough in that it covers both the current show and last year's controversies. Interestingly enough, Schumann stated to Cook that "[it] wasn't my intent [to equate Israelis with Nazis]" as he was so interpreted at the last February, he continued to exhibit the work in question this past autumn despite realizing that he "may have unnecessarily hurt some people's feelings."

The stage show is said to be about the United States' "extraordinary rendition" and torture programs with allusions to Dante's Inferno (a promising concept) but the accompanying visual art exhibit is going to be about "one young Palestinian man who he believes was falsely imprisoned by the Israeli government." Given how last year's stage show was advertised to both the players and the public as being about the United States' war in Iraq, yet, once we we showed up for reherasals, turned out to be about Israel and Palestine, I am left to wonder what show will really be seen by audiences.

Cook interviewed Schumann once before for his New England Journal of Aesthetic Research.