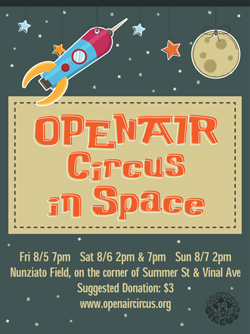 This is my seventh summer teaching at the Somerville-based youth-circus, Open Air Circus. My mime and commedia dell'arte students will be performing alongside jugglers, unicyclists, stiltwalkers, and other assorted young performers, in Nunziato Field in Somerville, MA.

Show times are Friday, August 5th at 7pm, Saturday, August 6th at 2pm and 7pm, and Sunday August 7th at 2pm. Suggested donation is $3.

The theme is "OpenAir Circus in Space" and yes, there will be a commedia dell'arte scenario about the solar system.